If you live in Broward, Miami-Dade, or Palm Beach counties, you live under constant assault by ads for air duct cleaning. Whether it is in the mail, a flyer, the newspapers or even a card dropped at your front door it seems that everybody wants to clean your ducts.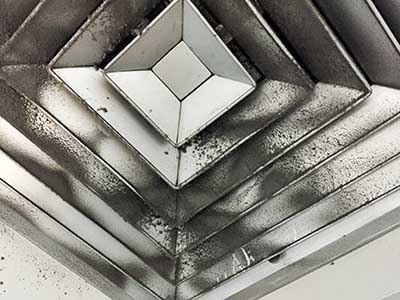 If you have ever called any of these companies up on the phone you will find that prices vary widely. Air duct cleaning is most certainly one area where you get what you pay for.
When done properly, air duct cleaning can improve the air quality in your home. When not done properly, it can make the air quality in your home worse.
Air Duct Cleaning Company Qualifications
The first question to ask is if the company is licensed. Air duct cleaners must be licensed contractors to do work by the State of Florida.
Once you determine they are properly licensed, ask if the company is a member of the National Air Duct Cleaning Association (NADCA). Member companies subscribe to high standards in ventilation cleaning and sanitizing. This voluntary professional organization sets the standards for effective air duct cleaning.
Once you have determined that the company is a member of NADCA, ask them exactly how they are going to do the work. Reputable companies that do the work correctly will place the ventilation system under negative pressure during the cleaning process. They will establish this by placing some sort of negative air flow equipment (like a large vacuum unit) in one place and then using separate cleaning tools to dislodge the debris from the duct wall so it can be sucked back into the collection unit.
Ask About the Process
If they are bringing this equipment into your home, ask them if it is HEPA filtered. You do not want them simply sucking the dust out of your ducts only to spread it all over your house.
Ask if they will be cleaning the air handling unit or the blower motor. This should be a part of the service. Because your AC system is a closed system, if one part of the system is not cleaned it will contaminate the areas that were cleaned.
Beware of a company that quotes an extremely low price. Remember, if a licensed and insured company is going to do the work they cannot show up at your house for $59, much less do any work. Figure that you are going to pay several hundred dollars for an average 3- bedroom 10 vent home to be cleaned.
Also, beware of add on costs. This is how the lowball companies get you. If a company tells you that applying a sanitizing solution is extra, then you do not want to do business with that company. A proper air duct cleaning process includes application of a sanitizer after physical cleaning. Do not be charged extra for doing something that is part of the normal process.
Speaking of sanitizers, ask what sanitizer the company will use. Ask if it is registered for application into airflow systems. Some companies will cut costs by using hard surface disinfectants instead of the proper sanitizing solutions. If your home smells like pine after they sprayed, you got ripped off.
We have years of experience in the indoor air quality business. Until 2006, we were in the air duct cleaning business. We are proud of the fact that we cleaned systems in hospitals, clinics, labs, universities and every type and size of home in S. Florida. We have seen the work done really well and we have seen work done very badly.
We don't do the work anymore, but we recommend DuctMasters for any residential or commercial work you need to have done. They will do it right. You can contact them at (954) 791-4111 or check out their web site at Ductmasters.com